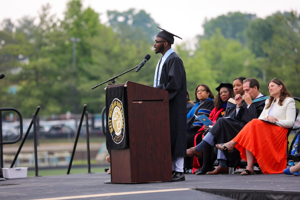 On June 8, the Class of 2023 graduates at Jerome M. Marco Stadium at 6:00 PM. This year's graduation ceremony is the third to be held away from the soccer field, a decision implemented in 2021 to prioritize safety from the coronavirus.
Poor air quality caused by wildfire smoke from Canada delayed the start of the ceremony from 9:00 am to 6:00 pm. The Air Quality Index (AQI) was originally in the purple range at 9:00 am, indicating "very unhealthy" levels of pollutants in the air. However, by 6:00 p.m., it had moved into the red range, indicating "unhealthy" air quality.
The student speakers in the class—Shrikanya Mitra, Gabe Fleming, Charlotte Horne, Jack Mandel and Joseph Jones—bring personal thoughts and inspiring messages as they discussed their past at Whitman and their future after high school.
"I'm from freshman to senior year," Horn said, "this day loomed in the distance, but somehow the idea of ​​graduating completely crept into my mind." "Knowing we'd be leaving for the summer and not coming back in the fall got me thinking about my time at Whitman."
In his address, Mandel explained that while the ideas expressed by graduation speakers such as President John F. Kennedy, Conan O'Brien and fellow student speakers about preparing for life after school were important, graduates should take their time to relax and celebrate their hard work. and achievements.
The Chief Rabbi of Congregation Adas Israel, Lauren Holtzblatt, was the keynote speaker at the ceremony and addressed four distinct points in her speech. I have tried to motivate alumni to discover what makes them unique, build their community, find a reason to bring more meaning to their lives and enjoy the journey.
"Find something else that gives your life a greater purpose," Holtzblatt said. Whatever it is, find the thing that turns you on. [and] It pushes you to think outside of yourself, to build something that will serve others long after you are gone.
The principal of the school, Robert Dodd, was the latest to address the audience and encourage the graduates to leave a positive impact on the places they visit in the future.
"I'm sure of two things," said Dodd. "The world's societies need you, and you can leave them in a better state than you find them."